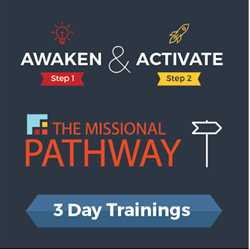 AWAKEN and ACTIVATE are a great way for us to make a difference in our community. Workshops filled with discovery exercises and interactive debrief conversations foster authentic relationships that encourage missional living. These workshops are ideal building blocks for an ongoing people-development process. It's simple, understandable, and doable. People say they emerge with fresh energy, clear direction, and a tangible way to make a difference with people outside the church. Expect optimism, encouragement, and enthusiasm to explode as we give
ourselves to a Kingdom cause, bigger than ourselves.

Join us and register for AWAKEN Workshops (August 24-25, Friday 7:00 p.m. – 9:00 p.m., Saturday, 9:00 a.m.-4:00 p.m.—Lunch provided Saturday; and August 22-September 19, Wednesdays, 1:00 p.m.-3:00 p.m.);
and ACTIVATE Workshops (September 22, Saturday, 9:00 a.m. – 3:00 p.m.—Lunch provided; October 17 & 24, Wednesdays, 1:00 p.m.-3:00 p.m.).
For more information and to sign up contact Pastor Keith.