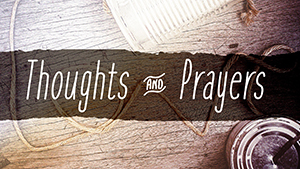 Whenever a tragedy strikes, national leaders will often announce that they are sending what has become a much-maligned offering of "thoughts and prayers." Many people not only question the sincerity of these offerings but their effectiveness. "Does prayer do anything?" "Does anyone hear?" In this series, we explore the amazing gift of prayer and why every circumstance--whether it is joyful or tragic--ought to be informed and formed by prayer.
September 10 - The Privilege of Prayer - (Hebrews 4:12-16)
Key Question: Does God hear me?
September 17 - The Power of Prayer - (James 5:13-18)
Key Question: Does prayer change things?
September 24 - The Path of Prayer - (Matthew 6:9-13)
Key Question: How do I pray?
October 1 - The Problem of Prayer - (2 Corinthians 12:7-10)
Key Question: What do I do when God says no?
October 8 - The Priority of Prayer - (1 Thessalonians 5:14-21)
Key Question: When should I pray?