We are livestreaming our Sunday Services at 9:30 a.m. Sunday service recordings are also available after each service is complete.
The service on the first and third Sunday of the month is a traditional service; the service on the second and fourth Sunday of the month is a contemporary service with our Praise Band.
Our Wednesday Morning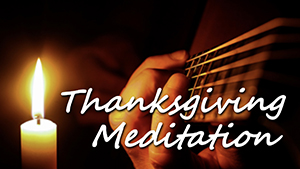 Meditation, featuring instrumental and vocal music by our Music Director, Adam Phillips, is combined with our Thanksgiving Eve Meditation Service this year. This recorded meditation is available to watch now on our Videos Page.
Our midweek Advent services will start on December 2nd (see below). They will be prerecorded and available each Wednesday by noon on our Videos Page.
Click Here for livestreamed and recorded services.