Monthly Newsletter for October, 2023

Newsletter Highlights This Month:
Show and Tell - New Sermon Series Starts October 15th

Next GSLC Pantry is on October 7th
Check Out Our New and Improved Website, gslcms.org/


Closed Captioning Available on Livestreamed Service Videos
A Special Message To Our GSLC Newsletter Readers . . .

After years of emailing our newsletters directly to you, our members, we have found that the newsletters are becoming more and more difficult to send and be successfully received.
The rules governing emails labeled as "spam"
have grown to the point that certain common words (like "Bill" (as in Savage!) and "income" and "Amazing" and "money") can cause our newsletters to be labeled as "spam". In addition, your email service provider may block or mislabel our newsletters as spam if you do not open and "engage with" each email.
If you do not open (and click to read) most of the newsletter notices you receive from now on we will eventually assume that you are not interested in receiving them and may remove you from the email list (we will write to you first) to protect the sending process for everyone else. Please open and click on the link in the email every month to keep up the deliverability of our newsletters.
Thank you,
Your GSLC newsletter team
Sermon Series Concludes - Thoughts and Prayers
Whenever a tragedy strikes, national leaders will often announce that they are sending what has become a much-maligned offering of "thoughts and prayers."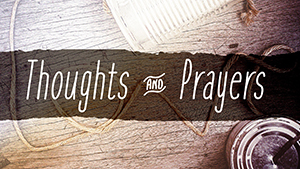 Many people not only question the sincerity of these offerings, but their effectiveness. "Does prayer do anything?" "Does anyone hear?"
In this series, we explore the amazing gift of prayer and why every circumstance – whether it is joyful or tragic – ought to be informed and formed by prayer.
October 1 The Problem of Prayer — 2 Corinthians 12:7-10
Key Question: What do I do when God says no?
October 8 The Priority of Prayer — 1 Thessalonians 5:14-21
Key Question: When should I pray?
New Sermon Series - Show and Tell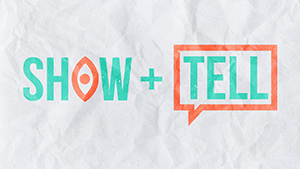 The apostle Paul writes to a pastor named Timothy: "Pay close attention to your life and your teaching; persevere in these things, for in doing this you will save both yourself and your hearers" (1 Timothy 4:16). Paul identifies two things critical for leading others to salvation in Christ. First, he says Timothy should share salvation in how he lives. He should watch his life. Second, he says Timothy should share salvation in what he teaches. He should tell about Christ. If we wish to share salvation, we need these two things as well! In this series, we discuss ways to show and tell about our faith.

October 15 Render Service — Matthew 25:31-40

October 22 Offer Grace — Matthew 9:2-7

October 29 Embrace Doubts — John 20:24-28

November 5 Confront Pain — Psalm 23
Sunday Bible Study
Our Sunday (10:45 AM) bible study is The Linchpin: Seven Reasons To Believe Jesus Rose From the Dead, by Thomas Zelt; this study explores the importance and the reality of the Resurrection.

Led by Pastor Keith
This Month in Our Prayers

Recent Additions:
• Nancy M.—(wife of Pastor Eric Mettala)—hospitalized
• Lois K.—suffered a stroke. Prayers for comfort and healing
• Janet C.—recovery from knee surgery
• Jim H.—(Sharon Larson's cousin)—has serious infection
• Michael L.—completed radiation therapy. Prayers for recovery from treatment
• Kim S.—(friend of Lizzy Savage)—starting chemo
• Natalie K.—relief from pain and sorrow
• Glenn O.—(Nancy & Bob Szulczewski's son-in-law)—undergoing chemo & radiation for cancer
• Janet E.—relief from pain
Ongoing prayers:
• Shawna H.—prayers that her ability to swallow continues to improve
• Carolyn K.—treatment for cancer. Prayers for strength
• Susan M.—(cousin of Lorna White)—diagnosed with Dementia
• Christine K.—(cousin of Lorna White)—diagnosed with Dementia
• Margret B.—healing
• Spike M.—healing as he continues his recovery
• Temmo K.—healing from his kidney transplant
• Ryan R.—diagnosed with pancreatic cancer
• Rev. Larry M.—in memory care
• Patrick—recovery after lung cancer surgery
• Kelly—prayers that continued treatments are successful
• Marianne S.—cancer treatments
• Arlene K.—Parkinson's disease
• Susan B.—healing
• Missy—healing
• Terry O.—relieve discomfort & suffering from her health issues
• Scott R.—leukemia diagnosis
• Judy S.—Parkinson's disease
• Ginny H.—health concerns
• Brigitte S.—health concerns
Additional prayer requests, prayers of thanksgiving, prayers of comfort
• Prayers of thanksgiving in celebration of Gary Row's birthday on Oct 1, Nancy Szulczewski's birthday on Oct 2, Kitty Jones' 61st birthday on Oct 3, Betty Burri's 81st birthday on Oct 3, Michael Lamboley's 78th birthday on Oct 4, Rose Norris' birthday on Oct 5
• Prayers of comfort and peace for Pastor Keith & Kitty & their family & friends on the passing of Pastor Keith's dad, Robert on Sept 27
• Continued prayers for Erik Wipf and the team who are helping and running the dental clinic and Centro Cristiano Vida Nueva church in Oaxaca, Mexico
• Continued prayers for all people in Ukraine and Russia
• Continued prayers for Pastor Paul Nelson and family as they continue their work in Indonesia
This list is current as of September 28, 2023. Please see the most recent weekly Sunday Bulletin (posted on the GSLC Videos Page) for the latest updates to our prayer list.
GSLC Pantry Saturday, October 7th

New Needs

• Plastic grocery or reusable cloth bags

Ongoing Needs

• Donate $$

• Purchase food & hygiene or paper goods and drop them off at church Monday - Thurs 8:00 am - noon.

• Help prep on Friday, October 6th

• Help this Saturday morning, October 7th, between 8:00 a.m. - 11:00 a.m.

Notes:
Food items that we don't usually get from S.B. Food Bank, such as:

- Peanut Butter, canned soups, tuna/meats, stew, beans, canned veggies, canned fruits

- Non-sugary cereal (Ex: Wheat Chex, Cheerios, Raisin Bran), breakfast bars, oatmeal

4) Hygiene and household goods,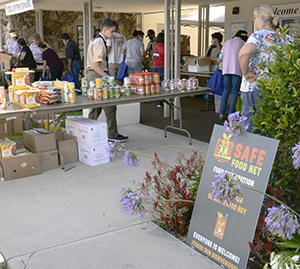 such as:

- Toilet paper, tissues, paper towels, soap, sanitizers, and masks

- Toothpaste, floss, toothbrushes (or ask your dentist for a donation ! )

- For our Miscellaneous Table we are collecting individual items such as deodorant, shampoos/conditioners, cleaning supplies, diapers/wipes, male/female personal items...). Perhaps you have extras in your cupboards or can buy some locally.
Questions? Contact or see Val Eurman (805) 705-3311 or Cindy (805) 680-4686 after church on Sundays.

New Good Shepherd Web Site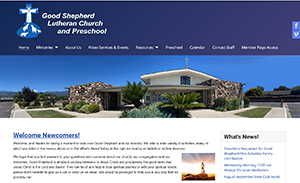 Our updated church web site includes information about our church as well as the many activities available for participation by our congregation members and members of our community. Timely announcements are in the What's News! listings on the home page, and the events calendar lists all kinds of events held at our church (see www.gslcms.org/events).
There is a "members only" page for congregation members. The page contains officer and elder contact information as well as "congregation only" content, such as reports.. If you are signed in as a member, the events calendar page includes the schedule for committee meetings. You can register for access to the member page (and enhanced event calendar) on the web site.
In addition, the web pages are now more ADA-compliant - accessible for users with screen reading or other assistive devices.

The site pages are "responsive" to the screen size, making them easier to view on tablets, smart phones and other small screens.
Check it out!
Are You a Photographer? We Need Your Help!

We are looking for that special person that is interested in photography and wants to expand their skills by operating the video cameras and video switcher during our services and other events. Could that be you?
We have a core group of five GSLC members that enter the weekly worship service text, organize the sermon slides, set up the video feed, do the live camera switching for the services and meditations, record the services, etc. every week.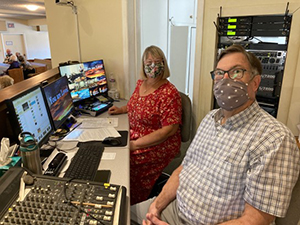 We are looking for another camera / switcher operator to provide relief and someone to do this when we are not able to do it.
We - and our livestream viewers - need your help so we can continue livestreaming and recording all of these services and events. Ideally, you would be able to assist with the Sunday service and/or Wednesday meditation livestreaming once a month (to stay in practice), step in if other team members are not available, and perhaps do some of the Lent or Advent evening service livestreaming.
The tasks are precise but not difficult. There's no experience needed - we will train you!

If you are interested finding out more, please contact Dan Barnett (805 729-5993) and/or Fred Barbaria (805 680-0288) for more information. Or, just come by and see us in the AV area (up in the back corner) after the Sunday service.
Our Livestream Services Now Include Closed Captioning
Just look for the CC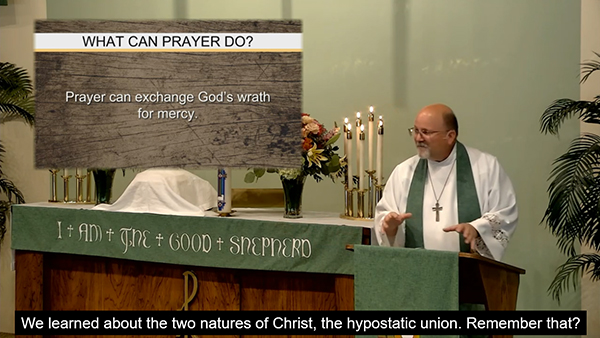 symbol on the screen (not included on phone screens due to size) and click on it. We suggest that you turn this on for Pastor's announcements and the sermon but leave it off for the liturgy and music as the liturgy and song lyrics are already on the video. Vimeo's captions are accurate and easy to read!

We livestream our Sunday service at 9:30 am. You can start watching around 9:25 for announcements. You can also watch the service recording on our website any time after the service has been competed. We also livestream and record our Lent, Holy Week and Advent services.
This livestream broadcast includes the entire service - prayers, sermon and music. The liturgy will be provided on the web site as a PDF document, along with a "public" version of the weekly bulletin (no contact information and no weekly giving statement). The recording includes the liturgy and song lyrics superimposed on the video images as well as closed captioning. You are encouraged to respond to the liturgy and sing along with Adam. Go to: https://gslcms.org/watch.

If you do not have a way to view our GSLC service at home, we have a limited number of Kindle tablets available. These are provided, upon request, with recordings of GSLC's recent church services. These are self-contained touch screen video devices. Please contact Trisha at the office during the week (Monday - Thursday, 8am to noon) at 805 967-1416 for more information about the tablets.
GSLC's Worship Schedule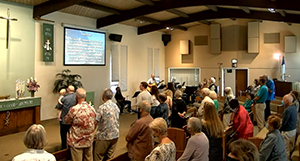 Sunday worship continues with one service at 9:30 a.m. We alternate two styles of worship. On the 1st and 3rd (and 5th) Sundays the organ will generally lead us in song and the order of service is more traditional liturgy. On the 2nd and 4th Sundays the band will lead us in song and the order of service is a blend of contemporary and traditional form.
Better Read Than Dead Book Club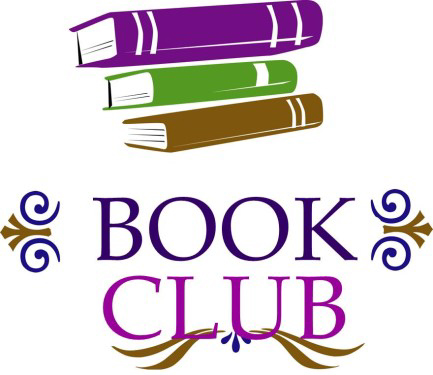 Book Club Reading for October, November
Reminder: We continue our in-person meetings in the Fireside Room for our monthly book club discussions.

The books chosen for our GSLC "Better Read than Dead" club discussions are below. Join us in reading along!
For October 14th meeting: "One By One" by Ruth Ware
Getting snowed in at a beautiful, rustic mountain chalet
doesn't sound like the worst problem in the world, especially when there's a breathtaking vista, a cozy fire, and company to keep you warm. But what happens when that company is eight of your coworkers…and you can't trust any of them?
When an off-site company retreat meant to promote mindfulness and collaboration goes utterly wrong when an avalanche hits, the corporate food chain becomes irrelevant and survival trumps togetherness. Come Monday morning, how many members short will the team be?

The #1 New York Times bestselling author of The Turn of the Key and In a Dark Dark Wood returns with another suspenseful thriller set on a snow-covered mountain.

For November 11th meeting: "The Atomic Weight of Love" by Elizabeth Church
In the spirit of The Aviator's Wife and Loving Frank, this
resonant debut spans the years from World War II through the Vietnam War to tell the story of a woman whose scientific ambition is caught up in her relationships with two very different men.
For Meridian Wallace - and many other smart, driven women of the 1940s - being ambitious meant being an outlier. Ever since she was a young girl, Meridian had been obsessed with birds, and she was determined to get her PhD, become an ornithologist, and make her mother's sacrifices to send her to college pay off. But she didn't expect to fall in love with her brilliant physics professor, Alden Whetstone. When he's recruited to Los Alamos, New Mexico, to take part in a mysterious wartime project, she reluctantly defers her own plans and joins him.
What began as an exciting intellectual partnership devolves into a "traditional" marriage. And while the life of a housewife quickly proves stifling, it's not until years later, when Meridian meets a Vietnam veteran who opens her eyes to how the world is changing, that she realizes just how much she has given up. The repercussions of choosing a different path, though, may be too heavy a burden to bear.
Elizabeth Church's stirring debut novel about ambition, identity, and sacrifice will ring true to every woman who has had to make the impossible choice between who she is and who circumstances demand her to be.
Jump in! New folks are welcome anytime to read with us and "meet". Just order/start reading the "next" book in line and give me, Val Eurman, a call at 805-705-3311 or sen an This email address is being protected from spambots. You need JavaScript enabled to view it.for more details and to get on our email list!
The Craft Auction is Back!!
Save the Date - Sunday, November 5, 2023
2:00 p.m.—5:00 p.m. in the Fireside Room
It's time to start new craft projects or finish the ones you have!
More information to come as we get closer to the auction!
Want to Keep Up With the latest GSLC News?

Our weekly Sunday Bulletin has the latest GSLC news!
It's chock full of our prayer list, weekly schedule, basically everything that happens between these newsletters. The "public" newsletter version (no weekly financials) is updated every Sunday morning and is easy to get to - just go to our GSLC Videos page, gslcms.org/watch, and scroll down to and click on "Most recent Sunday Bulletin". It will open or download for you. The full bulletin is available (only) on the GSLC Members Page.
The current Sunday Order of Service is available on the same page.
Portals of Prayer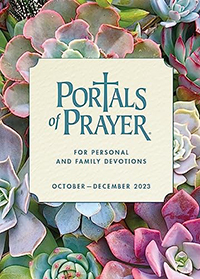 Portals of Prayer devotion booklets for October - December, 2023 are now available at the church office.
Please call Trisha and reserve a copy or come by the church office during business hours (Mon-Thurs 8:00 am—12:00 pm) to pick one up!
Church Office Hours

Our church office is staffed Monday through Thursday from 8:00 am until noon.
Please exercise social distancing if you need to come by, or call 805 967-1416.
Quilting News & Notes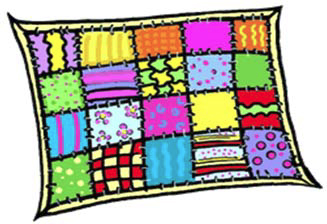 Quilting will meet on Wednesdays only from 9:30 a.m. until around 1:00 p.m. in Room 19. We have almost assembled all the quilts that were sewn during the pandemic – thank you Linda, Ruth and Kathy!
Some Saturdays will be reserved for "work days" when we can get together and iron, cut and do some general cleaning of the room or accomplish special projects. We will let you know when those Saturdays will be!
For now, Wednesdays only (see special note above) and we hope to see you there!
Join Adam for a Musical Meditation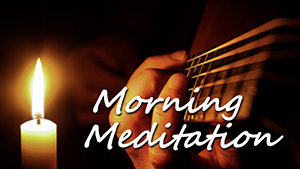 Adam Phillips, GSLC's Music Director, provides meditative instrumental and vocal music every Wednesday morning at 10:00 am.

Please join Adam (or an occasional guest artist) in our sanctuary as they explore a variety of hymns and other musical prayers performed on a variety of instruments.
The meditation is livestreamed on GSLC's Video Page and available afterwards as a video recording until the next live event. Older meditation videos are archived.

The direct link to the Livestreamed / Latest Meditation is https://vimeo.com/event/1154783 . The Meditation Archive Showcase to view prior Meditations is at https://vimeo.com/showcase/7841964.
Holy Communion Offered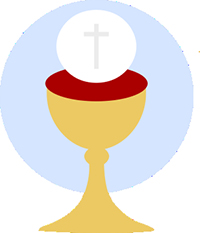 Holy Communion is offered every week at the 9:30 a.m Sunday worship service and by appointment during the week. Please call the Church Office if you would like to make an appointment to receive the Lord's Supper.
Most Recent Reported Weekly Offerings—
Through the 39th Week of 2023

Weekly Ministry Budget

$ 6,596.15

Contributions

$ 6,725.00

Other Income/Interest

$ 0.00

Weekly over

(under)




$ 128.85
Budget, Offerings (Year to Date Total):
| | |
| --- | --- |
| Budget | $ 257,249.85 |
| Contributions | $ 238.584.70 |
| Stock Gifts | $ 6,001.87 |
| Other Income | $ 0.00 |
2023 Year To Date over / under $12,663.28 = -4.92%

2023 Mission Offerings (Year Totals):
Dental $13,188.73; Nelson Family $1,475.00; District $720.00; Ukraine $1750.00; Hispanic Mission $300.00


GSLC's On Line Giving Options - Credit Card? eCheck?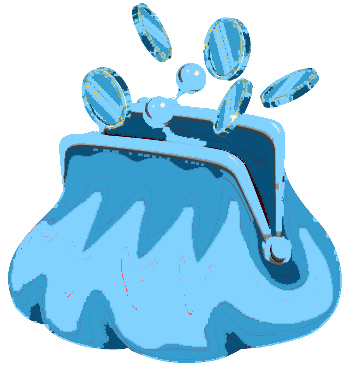 Good Shepherd has offered electronic donation capabilities (through Vanco) for a while. You now have the ability to sign up directly through Good Shepherd's web site to donate on line (through Vanco) once or on a recurring basis.

You can also make a special one-time donation (through Square) on Good Shepherd's website.

For either donation type go to https://gslcms.org/giving and then click on the appropriate donation button. You can specify whether you are donating to the GSLC budget or the Food Distribution program. If you prefer, you can also mail us your offering or drop it off at the church office.
IRA Distributions to Charity Are a Permanent Part of Tax Code!!
Congress made permanent qualified charitable distributions from individuals. This law permits annual direct transfers to a qualified charity totaling up to $100,000 of tax-deferred IRA savings. Funds distributed to the owner first and then donated do not qualify.
This includes the mandatory distributions for IRA owners 70-1/2 years of age and over.
This is a benefit to the donor as income taxes on social security benefits can decrease as the distribution is not reported as income for the donor. If the donor no longer itemizes their deductions this is a way to get the benefit of the donation as the IRA distribution is not included in income and thus not subject to income taxes.
To make a contribution you must contact your IRA trustee to make a transfer directly to the charity. Should you wish to make a donation to the church have the checks made payable to Good Shepherd Lutheran Church and have the check mailed to us directly. Be sure that the check includes your name on the memo line.

We will issue a letter of acknowledgement that we have received your donation. Please call David at 805 967-1416 x103 in the accounting office with any questions.
Read Through the Bible in Two Years

Let's read God's Word together and see the great things God does for us through His Word!
Haven't started yet? It's ok to jump in any time!
October, 2023
02 - Ephesians 3:1-21
03 - Ephesians 4:1-32
04 - Ephesians 5:1--6:24
05 - Philippians 1:1-30
06 - Philippians 2:1-30
07 - Philippians 3:1-21
09 - Philippians 4:1-23
10 - Colossians 1:1-29
11 - Colossians 2:1-23
12 - Colossians 3:1--4:18
13 - 1 Thessalonians 1:1-10
14 - 1 Thessalonians 2:1-20
16 - 1 Thessalonians 3:1-13
17 - 1 Thessalonians 4:1-18
18 - 1 Thessalonians 5:1-28
19 - 2 Thessalonians 1:1-12
20 - 2 Thessalonians 2:1--3:18
21 - 1 Timothy 1:1-20
23 - 1 Timothy 2:1-15
24 - 1 Timothy 3:1-16
25 - 1 Timothy 4:1-16
26 - 1 Timothy 5:1-25
27 - 1 Timothy 6:1-21
28 - 2 Timothy 1:1-18
30 - 2 Timothy 2:1-26
31 - 2 Timothy 3:1--4:22
01 - Titus 1:1-16
02 - Titus 2:1-15
Good Shepherd in the World

Background: Recently Pastor Paul and
Genevieve (Gena) Nelson received and accepted the call to serve on behalf of The Lutheran Church—Missouri Synod (LCMS) in Indonesia, based in Medan.
Pastor Nelson and his family served Emanuel Lutheran Church, Santa Barbara for 10 ½years. In this new role, Pastor Paul works closely with the Indonesian Christian Lutheran Church and helps train and mentor local pastors and lay leaders.

The Need: Pastor Nelson and family need fellow believers to partner with them in this new role.How can we partner with them?

First, PRAY. Pray for Paul and Gena as they serve in Indonesia. Pray also for each member of the family as they transition to a new location and culture. Ask God to give them patience and confidence as they learn Bahasa Indonesia, the official language of the country. Pray also that they would be able to establish good relationships with the people around them in their new home. Let us give thanks that the Nelson family is serving in this part of the world.

Second, ENCOURAGEMENT. Moving is challenging no matter where you go. Moving to a different country with a different language, different customs, different climate, is exponentially challenging! Birthdays and anniversaries still come around every year. A card or a note of support and encouragement is a meaningful gift that bridges the miles and changes.

Third, MONEY. Yes, money. Pastor Nelson is required to raise his own financial support for his family. That's how he gets "paid."

The Opportunity: This is our opportunity to partner with Pastor and Gena Nelson and support them in their work in Indonesia. Being a partner with Pastor Paul and Gena is one of the ways we can follow our mandate of listening to the voice of our Good Shepherd Jesus and fulfill our mission of "Excite the believers and share the Gospel." Partnering with Pastor Nelson will be a blessing for us.

The Challenge: Will we partner with the Nelsons? Are we up for it? Can we commit to meeting the needs? I hope so! I pray so! Please prayerfully consider how you might meet a need for Pastor Paul and Gena Nelson and family. I know that our Good Shepherd, the Lord Jesus, can lead usinto a meaningful partnership that will bless Pastor Nelson and his family and the church and people of Indonesia.

Please check out the video of Pastor Paul Nelson as he explains his new role as Theological Educator in Indonesia. The video is available on GSLC's web site here
If you would like to support Rev. Paul Nelson in his work in Indonesia, please go to lcms.org/nelson or click on the image below: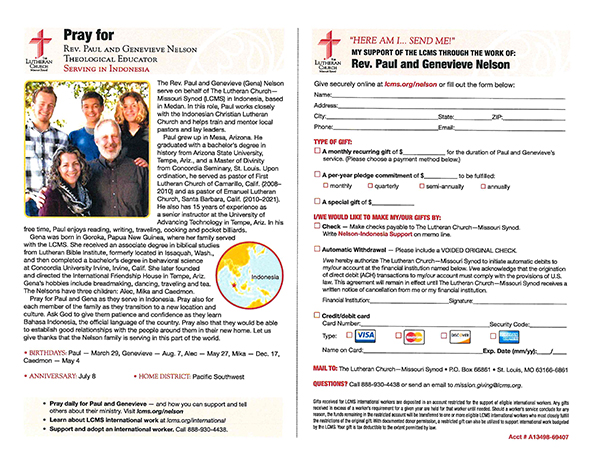 Talking to Jesus in the Arts
Art therapy with the Great Comforter

Zoom Session on October 21, 2023 Good Shepherd Lutheran Church
11:45 pm to 4:00 pm Room 14
"Finding Peace"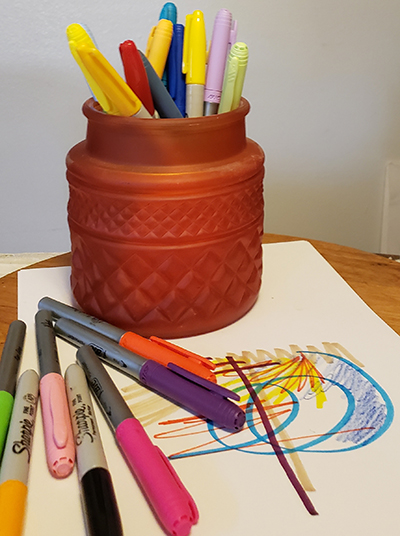 In the comfort of your home, we will connect with you for a time devoted to hearing God. A way to begin to seek peace is through drawing or painting lines and shapes on paper or canvas while talking to Jesus. A simple way to communicate even if
you do not pray or have ever heard God speak to you or not.

With Lizzy's guidance, step by step and the colors you will be choosing, our prayer for you is to hear God even if you have never heard Him before. We pray ahead of time that you will sense, hear or see what God is saying to you. These painting sessions have been remarkable for so many. Everyone must start checking in at 11:45 pm. After 12:00 noon sharp, no one is allowed to join.
We are not trying to create an art form, but rather to get in touch with our hearts in hearing and contemplating what God is saying to us - practicing the presence of God. The movement of drawing or painting allows us to hear, sense or see in areas where we may be blocked or have missed what God is speaking to us.
The deadline for sign-up and payment is the Thursday before each session to save your space. Everyone is able to do this; no art experience is required. You may use markers, pastels, colored pencils, or paint, your choice. Ten people limit on Zoom. Zoom suggested a donation $35 - Zelle or Pay Pal. Once you have paid, Lizzy will send you the art supplies and information for you to be ready for class. To sign-up, please contact Lizzy at 805-453-0571.
Lizzy Savage, Director
PCCA / Pacific Coast Christian in the Arts
Elders Available by Phone and Email

Elders assist with our public worship, oversee the spiritual life of members, and offer spiritual and physical support for our Pastor and congregation. Please contact any Elder to share your needs, concerns, and prayer requests.
Elder _ Phone ___E-Mail______________
Ted Hoelter 805 692-8414 This email address is being protected from spambots. You need JavaScript enabled to view it.
Mike McGinnis 805 967-3563 This email address is being protected from spambots. You need JavaScript enabled to view it.
Bill Savage (chair) 805 845-5265 This email address is being protected from spambots. You need JavaScript enabled to view it.
Erik Wipf 805 683-3228 This email address is being protected from spambots. You need JavaScript enabled to view it.


Altar Flowers - New Price, Same Beautiful Flowers!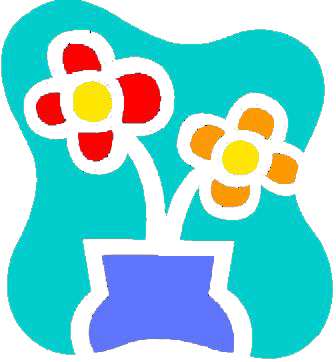 The 2023 Flower Chart is now available for signups. If you would like to place flowers on the altar, please sign up on the flower chart in the back of the church or call the church office at (805) 967-1416. One beautiful bouquet is $25. Please make out your check to Good Shepherd Lutheran Church (GSLC) and write flowers on the memo line. Mail it to Good Shepherd Lutheran Church or drop it by the Church Office. The office is open Mon-Thurs, 8:00 a.m. to noon.
Church Phone Extension Numbers

Please follow the auto attendant menu prompts or dial an extension directly if no one answers. Also, the preschool can be reached through the main church number as well as their direct number (805 967-6101).
Office Admin/Trisha: ext 100
Pastor Keith: ext.101
Accounting/Dave: ext.103
Sexton/Lee: ext.104
Music/Adam: ext. 105
Preschool/Katie: ext.108
One-Stop Publicity!
If your GSLC committee or group is making an announcement or planning an event, you can now send ONE email with the details and it will go to those folks editing the Sunday bulletin, church web site articles, web site calendar and monthly newsletter.
The Good Shepherd publicity email address is This email address is being protected from spambots. You need JavaScript enabled to view it.. Please include what the event is, when and where it will be held, who is invited and any other information that will help our readers decide to attend. Also, please include a contact name and phone/email if we (or a reader) want more information.
Staff, Board of Directors and Committee Contacts
You may find the staff contact information either above or on our web site (Staff Contacts) and congregational officer and committee chair contact information here or on the Members Only web page at gslcms.org:

Board of Directors
President Dave Roman 805 698-4596

This email address is being protected from spambots. You need JavaScript enabled to view it.


Vice-President Andrea Hoelter

805

692-8414 This email address is being protected from spambots. You need JavaScript enabled to view it.


Secretary

Michelle Cochran 805 705-7997 This email address is being protected from spambots. You need JavaScript enabled to view it.


Treasurer

Dan Barnett 805 729-5993 This email address is being protected from spambots. You need JavaScript enabled to view it.


Member-at-Large Alan Meeder 805

452-1591 This email address is being protected from spambots. You need JavaScript enabled to view it.
Member-at-Large (unfilled)

Committee Chairs and Group Leaders
Elders Chair, Bill Savage 805-845-5265 This email address is being protected from spambots. You need JavaScript enabled to view it.
Outreach Chair, Val Eurman 805 705-3311 This email address is being protected from spambots. You need JavaScript enabled to view it.
Head Usher, Mark Preiser 805 967-2113 This email address is being protected from spambots. You need JavaScript enabled to view it.
Memorials/Endowments, Tom Fisher 805 964-3692 This email address is being protected from spambots. You need JavaScript enabled to view it.
Shepherd's Bells, Joan Barnett 805 729-5994 This email address is being protected from spambots. You need JavaScript enabled to view it.

On Line Event Calendar
Our latest calendar is on line here. This link will take you to the "public" event calendar unless you use your member login. To see the entire calendar (with church meetings, etc.), please log in with your member ID.
No member ID? Click on "Create an account" on the right hand side of the web page to get started. Your account will be approved and then you can browse the member page contents.

Good Shepherd Lutheran Church and Preschool
380 North Fairview Avenue, Goleta, CA 93117 • 805 967-1416
Not interested in receiving our newsletter notices any more? Click at the bottom of the email that was sent to you.