Join Us - We Are Open For Worship Services! Please Read Before Attending a Service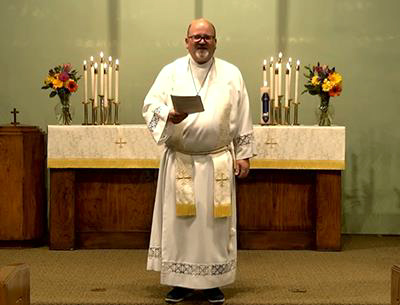 "I was glad when they said to me, 'Let us go into the house of the Lord.'" (Psalm 122:1; NKJV)
Grace to you and peace from God our Father and the Lord Jesus Christ!
We have prayerfully considered the unique characteristics of our campus, style of worship, and the congregation that we serve and have developed a plan for gathering. For those members of the congregation that are currently finding that their spiritual, mental health, and emotional needs are being met in our current virtual services, we encourage you to worship at home. (Please contact the church directly so that someone from our ministry team can connect with you personally to discuss how we can serve you in this time.)
We are able to seat 36 – 54 people in our sanctuary, depending on the number of singles, couples, and families who attend while practicing physical/social distancing.
If you need assistance for any reason please call Trisha in the church office (805) 967-1416 during office hours (Mon-Thurs 8 a.m. – Noon) or contact Trisha before Thursday, Noon. You can leave a message for us any time before Thursday noon at the number above.

The State of California and Santa Barbara County Public Health Department recommend those in the high-risk categories continue to worship at home if you have not been vaccinated.
Those in the high-risk categories include, but are not limited to:

• Aged 65 or older

• Immune Compromise
• Diabetic

• Heart Conditions

• Lung Conditions

• Those who have been exposed to others with COVID symptoms

• Those exhibiting COVID symptoms
Please refer to the CDC Guidelines for further information.
We are well aware of the variety of personal opinions regarding these recommended guidelines. In the interest of best practices and concern for others, we will be adhering to the recommended guidelines for churches in California and ask that you take the following steps to help limit exposure for yourself and others. No exceptions. If you are unable or unwilling to adhere to the recommended guidelines (or you are ill), please stay home and worship via our virtual service (www.gslcms.org/watch) until such a time changes in the recommended guidelines would allow you to worship in the building.
1. On the morning of the worship services, please utilize the CDC Self Checker (located halfway down the page at:: https://www.cdc.gov/coronavirus/2019-ncov/testing/index.html ).
2. Parking spaces marked with a white "X" are unavailable for parking. Please park in the spaces that do not have an "X."
3. Please bring a face covering that covers both the nose and mouth. These will be required for all attendees. If you do not have one, we will be glad to provide you with one upon arrival at the church.
4. A touchless hand-sanitizer station will be provided, as well as individual bottles if needed. Please sanitize your hands prior to entering the sanctuary.
5. Pre-packaged Holy Communion kits will be available upon entrance (1st and 3rd Sunday of the month) if you desire to receive Holy Communion during worship.
6. We will be practicing physical (social) distancing during church service. Please sit at the end of a pew if you are the first single or couple in that pew. Please sit a minimum of six feet away from anyone (except your family member(s) that is already in a pew, including in front of and behind you. It may be unlikely you will be able to sit in your "regular" pew. Couples and families in the same household may, of course, sit and worship together.
7. Our church will be working with local public health authorities to develop a contact tracing protocol. If someone during the church service has a positive COVID-19 test, this will be managed by them.
We are holding one Sunday service at 9:30 a.m. This is a blended style service with which we have become familiar with our virtual worship. If an unforeseen circumstance were to arise that would prevent us from gathering, you will be notified in advance on our web site.
Looking forward to seeing you,
Pastor Keith Jones
All attendees are required to comply with the State of California requirements, including wearing a face covering during the service, etc.
If you want a service brochure (with sermon notes) you are encouraged to print the brochure (on the Videos page) before you attend the service as no bulletins, etc. will be distributed at the service.

Pastor Keith has recorded a reopening "walk through" video showing what to expect on Sunday. You are encouraged to watch it before attending the service.