Better Read than Dead Book Club
Fall 2021Selections
Fall into a good book! The Better Read Than Dead Book Club will continue to meet at 9:00 A.M. via Zoom on the 2nd Saturday of each month.

October: Peace Like A River by Leif Enger. Discussion October 8, 2021.
In brief: About the Lands family, a father and 3 kids, who live a quiet life in the Midwest. Told from the view of Ruben, middle child who was born with asthma who knows life is a gift and thinks his father is touched by God and can overturn the laws of nature. In Ruben's mind there is the possibility of magic in the everyday world. Interesting character development.
Once in a great while, we encounter a novel in our voluminous reading that begs to be read aloud. Leif Enger's debut, Peace Like a River, is one such work. His richly evocative novel, narrated by an asthmatic 11-year-old named Reuben Land, is the story of Reuben's unusual family and their journey across the frozen Badlands of the Dakotas in search of his fugitive older brother. Charged with the murder of two locals who terrorized their family, Davy has fled, understanding that the scales of justice will not weigh in his favor. But Reuben, his father, Jeremiah—a man of faith so deep he has been known to produce miracles—and Reuben's little sister, Swede, follow closely behind the fleeing Davy.
Affecting and dynamic, Peace Like a River is at once a tragedy, a romance, and an unflagging exploration into the spirituality and magic possible in the everyday world, and in that of the world awaiting us on the other side of life. In Enger's superb debut effort, we witness a wondrous celebration of family, faith, and spirit, the likes of which we haven't seen in a long, long time—and the birth of a classic work of literature.
November: Lady Clementine by Marie Benedict. Discussion November 12, 2021.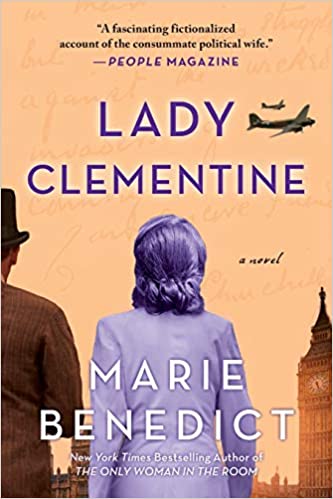 From Marie Benedict, the New York Times bestselling author of The Only Woman in the Room, comes an incredible novel that focuses on one of the people who had the most influence during World War I and World War II: Clementine Churchill.
In 1909, Clementine Churchill steps off a train with her new husband, Winston. An angry woman emerges from the crowd to attack, shoving him in the direction of an oncoming train. Just before he stumbles, Clementine grabs him by his suit jacket. This will not be the last time Clementine Churchill saves her husband.
Lady Clementine is the ferocious story of the brilliant and ambitious woman beside Winston Churchill, the story of a partner who did not flinch through the sweeping darkness of war, and who would not surrender either to expectations or to enemies
December: Christmas on Jane Street by Billy Romp. Discussion December 10, 2021.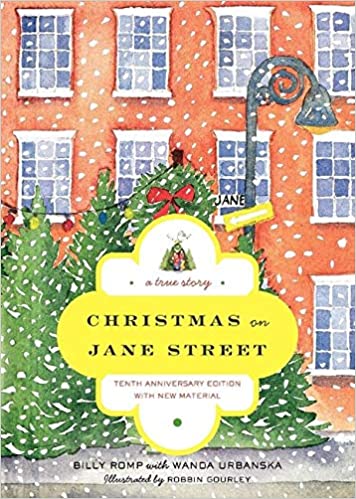 A lovely, lovingly illustrated little gem of a book, this delightful tenth anniversary edition of a beloved Christmas classic tells the poignant, inspiring story of an unforgettable family that brings the Christmas spirit to life on a street corner in Manhattan and the warm, wide circle of friends who have welcomed them to the neighborhood.
Every holiday season for nearly twenty years, Billy Romp, his wife, and their three children have spent nearly a month living in a tiny camper and selling Christmas trees on Jane Street in New York City. They arrive from Vermont the day after Thanksgiving and leave just in time to make it home for Christmas morning—and for a few weeks they transform a corner of the Big Apple into a Frank Capra-esque small town alive with heartwarming holiday spirit.
Christmas on Jane Street is about the transformative power of love—love of parent and child, of merchant and customer, of stranger and neighbor. The ideal Christmas story, it is about the lasting and profound difference that one person can make to a family and one family can make to a community.
For more information contact Lynne Jessop or Val Eurman.