Good Shepherd Lutheran Church provides many opportunities for small group Bible study and fellowship. Some of these are long term, such as the Sunday studies and the Wednesday morning women's Bible study. Others, like the seasonal small group studies, may last for several weeks and change their topics for each series.
Ongoing Bible Studies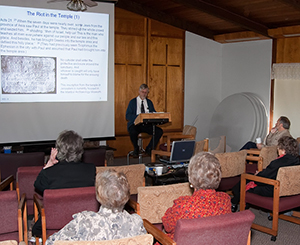 Two Sunday Bible studies are held between services at 9:15 A.M. John Devore is leading an adult seminar (in the Fireside Room) which is discussing "Together With All Creatures, Caring for God's Living Earth". The environmental issues of our day raise a basic theological question, namely, "How do we see ourselves in relation to the earth and all its creatures?"

The Sunday women's Bible study, led by Barbara Lamboley, typically alternates between a topical or Bible study. It is held in Room 14.
Monday brings an adult bible study of the "Gospel According to Matthew", led by Pastor Keith at 10:00 a.m. in the Fireside Room.

The Bible along with great men's fellowship are available every Tuesday morning at 6:30 a.m. The Men's Bible Study happens in the Fireside Room, rain or shine. We'll have coffee (and a fire) going - join us! We are studying "Paul's Letter to the Romans" led by Pastor Keith.
For over 25 years, the women of Good Shepherd Lutheran Church have met for their weekly Bible study on campus. This lively discussion group meets in the Fireside Room every Wednesday morning at 7:00 a.m. Come join us for "Mere Christianity" by C.S. Lewis.

Small Group Studies

Small group elder-led Bible studies are listed on the calendar and are announced in the What's News section on the Home page before each series starts. Additional information on the current small group Bible studies is available in the Sunday bulletin at the signup table after Sunday services, or please see an elder after services.
These topics were current when last updated but it is suggested to view the calendar for the most up to date listings.