Worship Services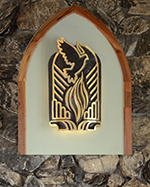 Good Shepherd Lutheran Church previously held two worship services each Sunday. The first service is a traditional, liturgical service with organ (and other) music at 8:00 a.m. The Shepherd's Bells and/or the Festival Singers may provide musical worship as well. The second service (10:30 a.m.) is a contemporary praise service with drums, electric instruments and a vocal group leading hymns. Currently we are holding one service at 9:30 am on Sundays. The service alternates between the two musical styles, with the first and third services of the month in the traditional style and the second and fourth services of the month with our praise band.

Christmas and Easter are both joyful occasions at Good Shepherd. Christmas services are typically held on Christmas Eve, with Easter services following the normal Sunday worship schedule. Please see the Event Calendar for details.
In addition, there are Wednesday evening services held (at 7:00 p.m.) for the Advent and Lenten seasons. The Wednesday services are often preceded with a Soup Supper (soup, salad, bread and dessert) sponsored by a group such as the elders or bell choir. Please see the Event Calendar to confirm the schedules.
Music
Good Shepherd Lutheran Church offers opportunities to both enjoy and participate in music activities.
The Shepherd's Bells

The Shepherd's Bells are the adult bell choir of Good Shepherd Lutheran Church. We ring music to the glory of God with great delight using 5 octaves of Schulmerich handbells, 4 octaves of chimes and an assortment of other percussion instruments, when the composition calls for it. Sometimes we ring music written for bells and organ, or flute, trumpets, or voices. As one of our ringers puts it, the music is "awesome!" The bell choir rehearses between 6:00 – 7:30 on Thursday evenings. Visitors are most welcome to our "open rehearsals" to watch and listen. The bell choir rings about once a month in both services on Sundays. Contact the director, Joan Barnett, if you'd like to know when the bell choir will be ringing next. Here is a link to some performances by the Shepherd's Bells on YouTube. You can also see a recent performance here:
Just what are handbells, you ask? We have 61 bronze bells that are rung in a variety of ways. Handbells are "traditionally" rung with one bell in each hand -- the largest of our bells weighs 7 lbs. 2 oz. and the smallest weighs 8 oz. Handbells also can be played with mallets (suspended or while the bells are resting on the padded tables), can be linked together to form a "bell tree", and can be plucked (a sound that sounds almost like a cello pluck, with the bass bells). More than one bell can be held in each hand too (called "two-in-hand" or "three- in- hand") It's all great fun, and wonderful music!
If you're interested in hearing the bell choir play, please come to a worship service (or a Thursday evening rehearsal) and rejoice as we praise God together with music!
Praise Band
The Praise Band is an integral part of our alternating 9:30 a.m. Sunday worship service. This rousing group, consisting of four multi-talented musicians, leads the congregation in song to praise our Lord. You don't need to know the words to the songs - they are all up on the screens.
Concerts
Mandolin? Violin? Cello? Banjo? Trumpet? These are but a few of the instruments brought together to make a "joyful noise" during the Good Shepherd s
pecial concert events. Musical groups vary in size and style, everything from classical to big band jazz to bluegrass. Some
groups, like the PSK Band and the Monday Madness Big Band, are well-known and local. Others, like Hillary and Kate, are brought in while on tour.

The Good Shepherd musical community is very diverse thanks to Adam Phillips, our music director. Concerts are free to all; a free will donation is requested to offset the cost for musicians.

Concerts are typically announced on the GSLC web site home page three to four weeks before the event and notices are emailed to an email list of those that have signed up at a previous comcert. To sign up for the concert email list click here (this list is only for concert emails and is not shared with anyone).

Our live attended concerts are back, starting with our 2021 annual Christmas concert (you may watch the concert here). More to follow! We usually request a free will donation at our concerts (they are self-sustaining that way), but if you would like to donate toward our concert expenses, please click here.